Good afternoon! Our community facility survey closes tomorrow, June at 3:00pm. If you have not taken, please do. Also, please share with other district residents. Thank you for your help with this process! #ForFairbanks
https://www.surveymonkey.com/r/JWKQP9Q



Good afternoon! Please check your email for our regular update containing information about the 2022-23 school year. Also, just a reminder about our last community facilities meeting for this school year on Thursday, May 19 at 7:00pm in the elementary school. See you there!!

The Driver Job Fair is Saturday! Join the Fairbanks Transportation Team at 10am in the High School parking lot.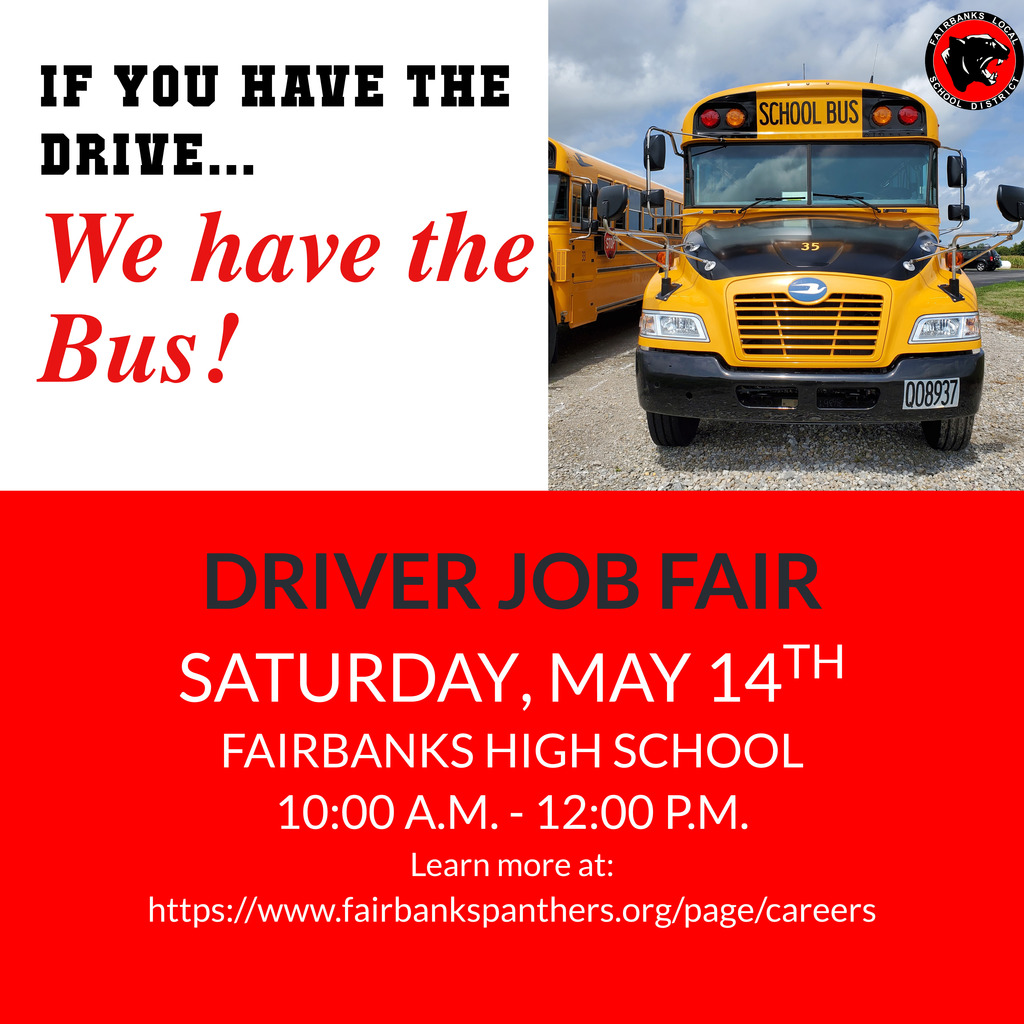 Good afternoon! Please watch our brief master facility planning update:
https://youtu.be/ylHcFMcrZu4
We look forward to our community meeting on May 19 at 7:00pm. See you soon! #ForFairbanks

Good afternoon! This is a reminder that our schools are closed tomorrow, May 3, for voting. We will see everyone on Wednesday. Have a great evening!

Reminder for our Fairbanks Families: Fairbanks Local Schools will not be in session Tuesday, May 3rd as our facilities are used as a polling location for the primary election.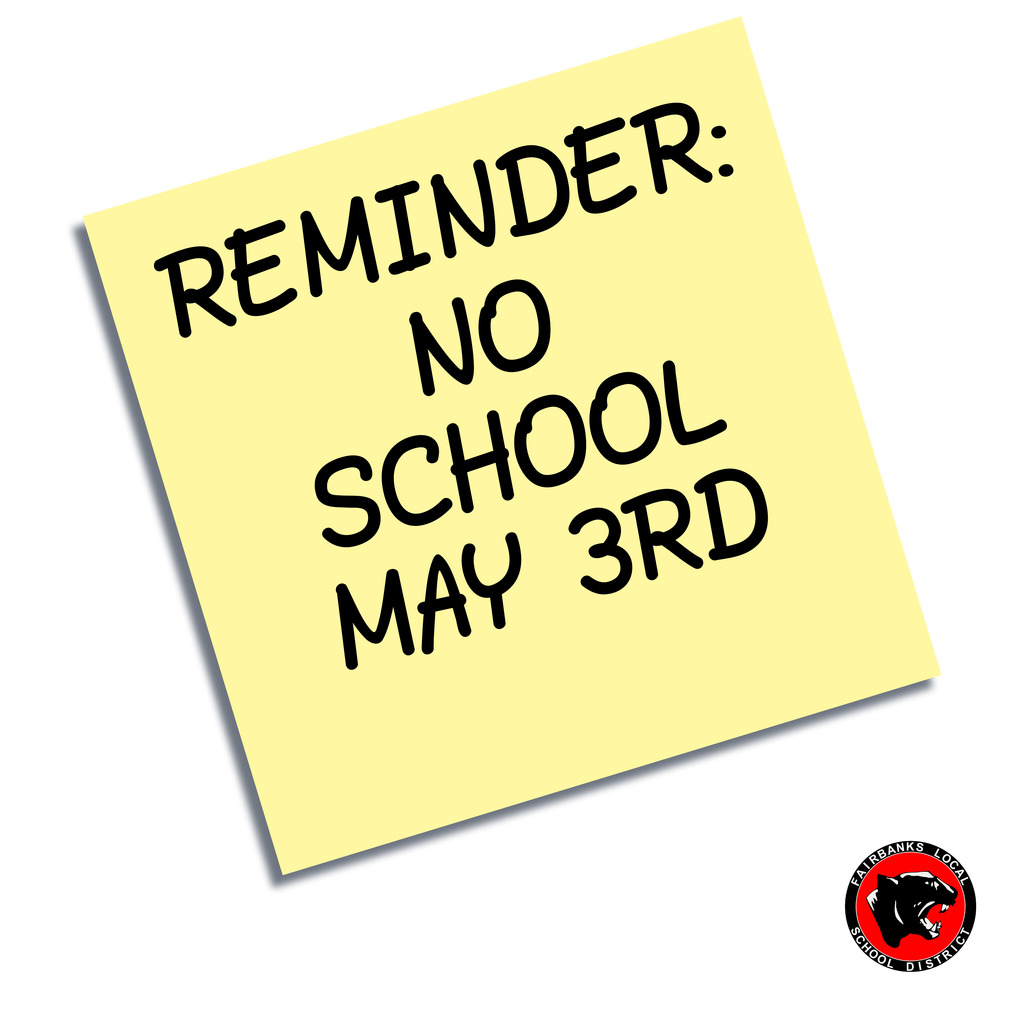 Interested in joining the Fairbanks Team? Our Driver Job Fair is a great opportunity to learn more about the Fairbanks Transportation Team! Meet with other drivers, district leadership and maybe try driving a bus! We hope you will join us on May 14th at the High School.



Good afternoon! This evening, Fairbanks will host the 2022 State of the Schools at 7:00 p.m. in the High School Gymnasium. We hope you are able to join us!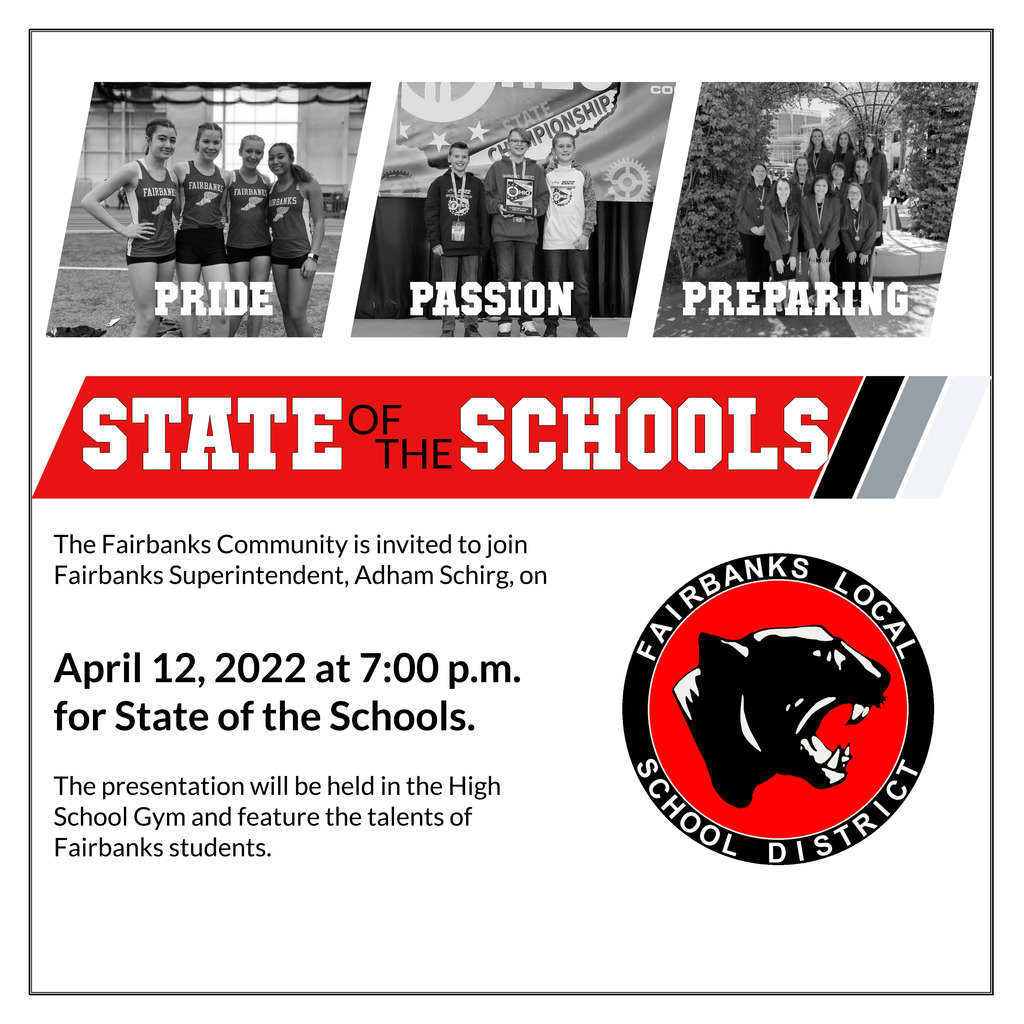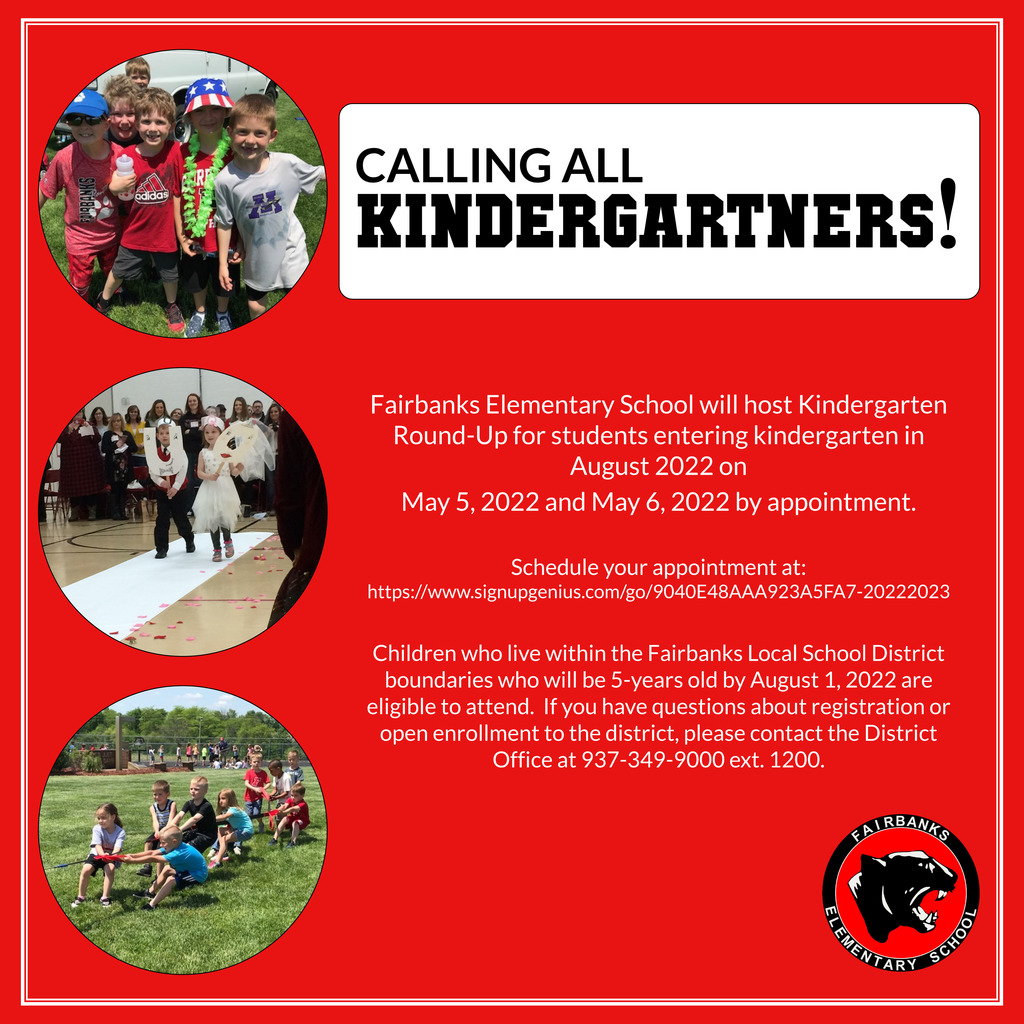 Good morning! We will have an on time start today for Fairbanks Schools. Just got back from driving and roads are primarily wet. Give yourself a few extra minutes as you make your way to school. See you soon Panthers!! #ForFairbanks



Good afternoon! Due to road conditions and local snow emergency levels, all Fairbanks Local Schools evening events for Friday, February 4 have been canceled. Decisions for tomorrow will be communicated, including the Winter Homecoming Dance, by 1pm. Stay safe! #ForFairbanks

Good afternoon! Due to road conditions and local snow emergency levels, all Fairbanks Local Schools evening events for Friday, February 4 have been canceled. Decisions for tomorrow will be communicated, including the Winter Homecoming Dance, by 1pm. Stay safe! #ForFairbanks